---
Are you interested in certification that will develop your career instantly, without too much effort? Well, this isn't that kind of article, even though it sounds tempting. The truth is that certification process demands dedication and hard work.
In today's world of rapid technology changes, it can be challenging to keep up. Certifications can keep you on the right track. Plus, it is a great way to stand out among the others from the same business area. For our customers, Microsoft Azure is a trending subject, and one of our most delivered training topics. Statistics show that the need for those skilled in Azure will only continue to grow.
According to IDC-Microsoft white paper, there are many benefits of certification. Let's name a few:
1. Getting a job – there are introductory, intermediate-level and advanced certifications that can help you find a job more easily. This is especially important for people without previous engagement, but also for experienced ones. IT certifications help candidates demonstrate relevant capabilities and competencies;
2. Opportunity for advancement – Earning a certification represents one's interest in career progress. Certified employees are often given more responsibilities within organization, followed by promotion and higher salaries;
3. Better understanding of evolving technologies – which results in time savings and better handling complex issues as it gets easier to identify and resolve problems. Passing exams show that employees have the necessary skills and experience;
4. Ability to mentor – increases with knowledge gained through certification; plus, you can better support and estimate competences of your teammates if your skills have been evaluated;
5. Higher salary – statistic shows that certified employees earn 15% more than their non-certified colleagues, because of the upgraded skills;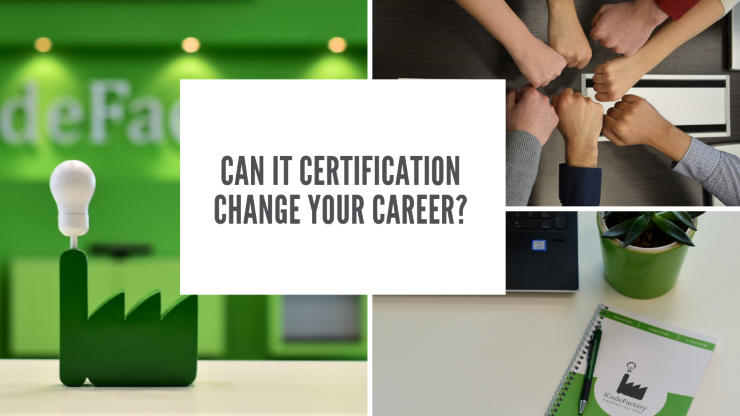 Also, there are a lot of benefits for companies which engage certified experts in their team:
1. Higher productivity – this especially refers to new hires, who reach their full potential a month earlier than non-certified peers;
2. Reduced cost of hiring – certified candidates are hired more quickly; their skills are evaluated more easily as the screening process is simplified;
3. More efficiency - Certified server, database, and application development teams are 17% more efficient than teams that aren't certified; new applications are delivered faster with improved IT operations overall;
4. Reduced risk – certified IT experts contribute to a 15% reduction in unplanned downtime, a 26% improvement in mean time to repair and 50% improvement in unplanned downtime related to server management;
Having Microsoft Certified Trainers on board at ICodeFactory helps us to efficiently grow our teams' technical skills. Experience from real-life projects complements the knowledge gained through Microsoft official curriculum.
If you would like to hear more about Microsoft Training, or are interested in our software development services, feel free to contact us. We would be glad to hear from you!
And in case you would like to join our team of Microsoft certified experts, you are more than welcome to visit our career page.