---
This year prevented us from socializing with students, but we still wanted to continue to exchange ideas, learn together and get to know each other better. That is how we came up with the idea to connect with students virtually and establish ICodeFerence Youth 2021.
ICodeFerence is an internal conference by ICodeFactory, created with a goal to share knowledge among colleagues, partners, and special guests. In previous years we went through a lot of topics, technical and business, and with international speakers.
Fundamental contents at ICodeFerence Youth are to help students to start their careers the right way.
Starting a career is not easy, there are many differences between the status of a student and an employee, as well as the way of working, organizing, and learning on projects. Our team has made presentations and lectures to prepare you better for professional challenges.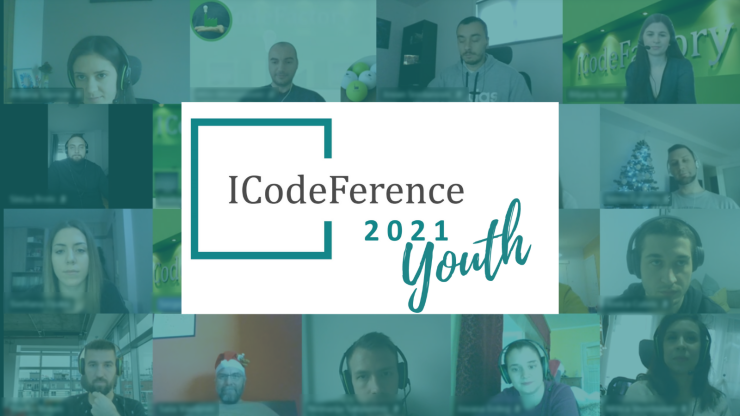 Join us on April 8th, from 11 AM to 2 PM, and get connected with experts from ICodeFactory through interactive presentations.
Our first session is a panel discussion on Students' projects vs Real-world projects.
We will discuss the differences, share tips with young people on how to adapt more quickly to real-world projects and what they can already apply to student projects. Students will have the opportunity to learn what are the advantages of working in a real environment.
The second session contains several unified topics on personal development through the certification program. Through the lecture of our MCT, students will be able to hear from the front line what are the benefits of IT certification for the individual, team, and company. We will also present in more detail the Microsoft Certification Training program, as well as other programs intended for students at ICodeFactory.
The last session at ICodeFerence Youth will be a lecture by our colleague Dragana Simić, People Operations Representative on the topic "How to map a career path and how to get a job". Students will have the opportunity to learn how to write a CV and cover letter, and what to expect at a job interview. Dragana will show what are good experiences from practice and what makes a good preparation for an interview.
Register for free HERE, and connect with us. This virtual event is exclusively for students to keep up with the future of work and professional development.
In the end, we have left the cherry on top. Play with us, and check your knowledge of OOP along the way. We have prepared valuable prizes for the fastest and best results.
Join us on social media too with hashtag #ICodeFerence.
Implement your vision together with us.