---
It is often heard that the expert used to be a beginner, and we believe that this saying should be an important reminder for everyone. We can all relate to how challenging starting a new chapter can be, especially when it comes to entering the "real world" and getting your first professional opportunity.

Here at ICodeFactory, we recognize how important it is to start your career the right way and we love meeting young talents! That is why we often organize internships, which are a great way for students and graduates to discover if a particular career path is the right one for them and see what it is like to be a part of an organization. Internships are usually the first professional experience for young people and they provide the opportunity to apply all the theoretical knowledge students have gained over the years and see how things work in practice.

In addition to finding out how different tasks and activities may look like in a particular workplace, internships are excellent for learning more about teamwork, communication, feedback, and many other valuable skills needed when working in a team and solving the toughest business challenges.

For us, having interns and employees whose personal values are compatible with the company's values is very important. ICodeFactory stands for lifelong learning, sharing knowledge, being open to new ideas and much more, therefore, we organize our internships in a way to help interns and future colleagues really see how these values are reflected in everyday work.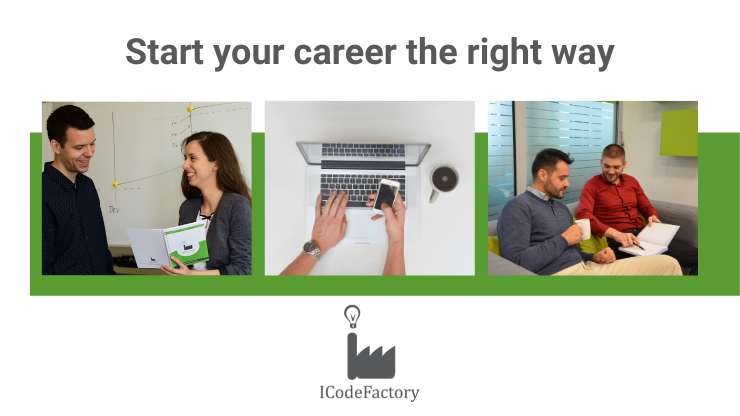 So far, we have had the opportunity to organize various activities for young people of different backgrounds and we have met amazing talents with different personalities and set of skills. This year was the first time we organized a conference dedicated to students, introducing them to real projects, training and sharing advice on how to write a great CV and prepare for their first interview. If you are curious to know more about it, check out our article ICodeFerenceYouth.

When it comes to internships, they vary every year, depending on the projects and activities we are working on. It is always a very exciting time when new people join us and we do our best to make them feel like they are part of our team. We wanted to mention some of the internships we have held lately and their most common tasks:
Software Engineer Trainee – Of course, as an IT company, we have internships for our future IT colleagues. As a Microsoft Gold partner, we are using .NET technologies to develop software solutions. During this internship, with the guidance of our Microsoft Certified trainers, students get to work in a dynamic team environment and take part in the realization of cutting-edge ideas.
Sales Assistant Trainee – This position is intended for someone with a background in economics, business, management, or other related fields. It is for someone who is very well organized, wants to develop their communication skills by communicating with clients and getting to know sales processes in the IT industry.
Marketing Internship – For students who are analytical, interested in marketing and social media, this is a great opportunity. Marketing is evolving more and more every day, and this is an excellent position for someone who is willing to constantly learn, loves planning and creating new content.
HR Assistant Trainee – This is an internship for those with a background in psychology, management, or other related fields. During the internship, activities are focused on recruiting and selecting candidates, learning and development, and many other processes that are part of daily activities of someone in the HR department.
Design Internship – An opportunity for students who love creating and turning ideas into reality. Innovative design is always needed, and this is an excellent position for those who are interested in getting practical experience in this area.

One thing we are very proud of is that some of our employees who have been with us for a long time started their journey as interns. If you are interested in learning more about how someone's journey in ICodeFactory can look like, check out articles about our amazing colleagues, Marija and Milo. If you want to hear more about internship opportunities, feel free to reach out to us or send us your CV at jobs@icodefactory.com. We would be more than glad to answer all your questions!