---
Companies in all sectors are facing the same challenge - how to overcome the increasing skills gap that is taking momentum in almost all domains of work?
It is no secret that the skills gap is expected to rise. In fact, talent shortage is expected to cause a loss of $8.5 trillion by 2030 in the United States alone, according to PwC. Most decision-makers believe that this threat will be the biggest business disrupter in the upcoming years. The situation is pressing the businesses to make serious changes in strategy, and to do it fast because the results could make all the difference in their competitive positioning.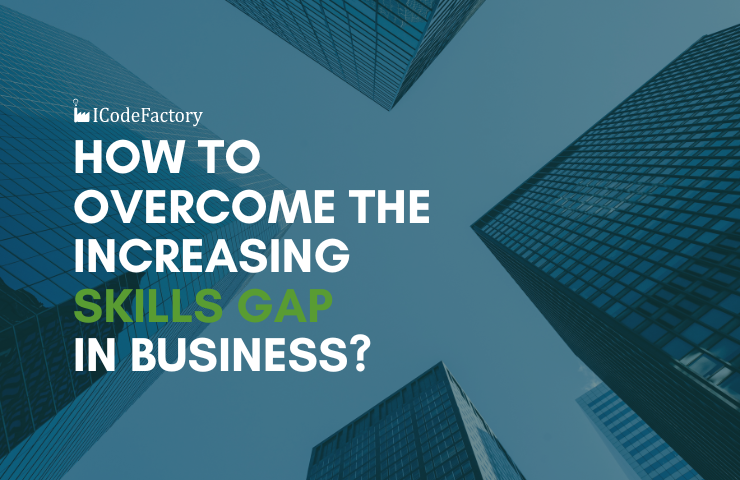 Upskilling and Hiring for Skills

In line with all this, a common dilemma for the decision-makers is: Do we have to invest more in upskilling or in hiring for skills? Both seem like equally viable options you would choose from when faced with a shortage of talent.
Many employers have reported having trouble finding the right qualifications, while hiring managers anticipate a significant shift in the required skills for jobs today. Not only this, but most of the existing work force also worry that their skills could become less relevant in the future, and they would therefore be willing to develop their skill set in order to stay up to date. It turns out this is legitimate reasoning, as The World Economic Forum states half of today's workforce will need reskilling by 2025. And yet, most companies still do not choose to invest significantly in the further training of their employees. Research by Salesforce shows that, while three in four workers believe they do not have the skills required by their company, only 28% are participating in training programs.

Why Upskilling?

Upskilling is the effort of advancing team members' skills through continuous education and training. What this really means is investing in your team, the people who already have an in-depth knowledge of the company culture and clients' needs.
Not only does this help in closing the skills gap, but it is also found that up to 94% of employees would choose to stay longer in a company that actively invests in their careers. Upskilling has been shown to bring an increase in loyalty, build a community and increase productivity.
All of this makes upskilling a reasonable option, but many organizations are still hesitant to implement it. The main factors in play are financial constraints and the availability of the right technology to support the initiative.
While upskilling is indeed a long-term investment and it cannot be expected to be without a cost – it has been shown that upskilling makes, on average, only a third of the cost of recruiting.

What is the right solution for your organization?

In almost 20 years of developing enterprise software solutions and training thousands of IT professionals, the ICodeFactory team of engineers has recognized the ongoing challenges in a variety of domains of work. The skills gap is currently at the top of that list, and we approach it accordingly. With a team of experienced Microsoft Certified Trainers, we listen closely to the clients' needs and create the solutions that help in overcoming their current obstacles in creating the best results possible.
If your business is facing the same challenges and you are looking for the best approach to upskill your employees, you can sign up for our mailing list through this link and receive a free consultation session with our training experts. We will analyze your company processes and suggest the best custom solution for your team accordingly. Let us help you in maximizing your people's true potential!