---
"Implement your vision" is our motto that has been guiding us through our work in all these years. It represents our approach not only towards our clients and business goals, but also our colleagues. We want them to be both personally and professionally fulfilled.
Internships are a great way to gain relevant knowledge and skills. They also provide an opportunity to see if chosen career path is the right one based on personal experience. We are more than happy to encourage students to start their career the right way.
During the internship in ICodeFactory, our goals were to demonstrate how working on a project genuinely looks like. The hands-on work experience interns receive cannot be obtained in a classroom. Real-life projects are far more complex than those at the faculty. That's why we simulated a project and let them face all the challenges, with the help of their mentor of course.
It is important to acknowledge the necessity of constant work on technology skills. What is even more important is to understand the core of software development. Domain knowledge is what distinguishes software engineers. Solving business challenges and properly using technology for that purpose is the key of our job. A lot of work has to be done until reaching this stadium. It is commonly known that practise makes perfect, and we can proudly say these young people are on the right track!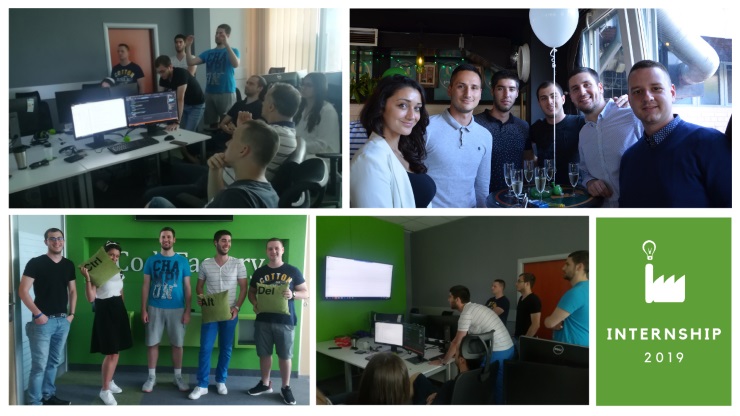 In addition to developing technology skills, other skills such as communication, teamwork and time management are also obtained in an internship, fully preparing students for their future career. Students become part of the business environment and learn more about IT industry. Working in a team and feeling corporate culture is important as well. We wanted them to feel like part of the team, and we embraced them as one of us. They even attended our annual conference called ICodeFerence!
Some of the interns are already looking forward to applying for our talent acquisition project and finishing Free Microsoft Certified Solutions Developer training to become part of our team. We are looking forward to working together again.
If you are also interested in our company's culture, or would like to become part of our team, check open positions and find suitable for you at the link: http://bit.ly/JobsAtICodeFactory
We are always glad to meet talented people!