---
This year's summer plans for students have changed a lot, but summer is still the best season for internships. For the most of students, internship is their first working experience and it can take an important part in making decisions for the future career goals or identifying themselves in the future roles. We decided to continue with investing in young, talented and motivated students and supporting them with Remote summer internship in ICodeFactory.
A remote internship can be challenging since it's hard to get connected with colleagues and meet the company culture but we find a way to stay on track and help them to gain new knowledge. Good mentorship and real-world experience are still the main components of quality in education. We are managing time, programme and schedule of internships, preparing relevant materials for beginners in software development. It consists of theoretical knowledge completed with practical training. Students are always welcome to ask questions.
Our goal is to teach students to understand the perspective of software development, introduce new tools and technologies and give them some expert advice and lessons learned. We are always willing to share our knowledge and experiences, helping students to see the bigger picture and think outside the box.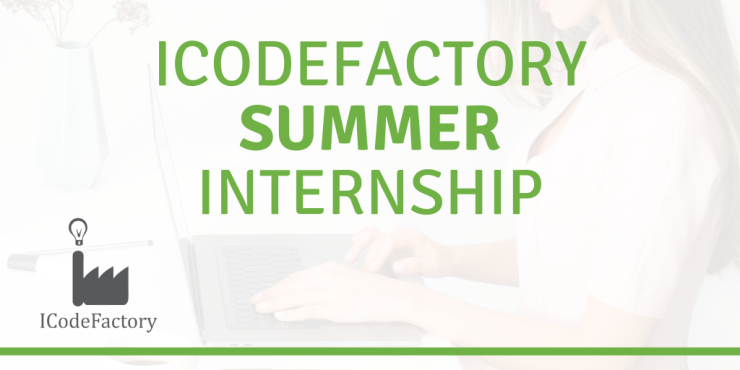 We will share with you some testimonials from our interns, what this internship means to them and how it will help them in the future:
"The internship is great, especially because I can go over the material at my own pace. Mentors are always available for questions.
The material is well explained and very detailed. It will help me at the faculty as well, considering that I am in the first year, so I will go through the materials for my senior years, plus there is work on real tasks. That is certainly a big advantage. I think I will learn a lot and this is a great opportunity for me."
"I think we went through a lot of learning materials in a short period of time, but it was helpful to have a mentor. Currently, I am looking forward to the practical tasks they have prepared for us. This will definitely mean a lot to me when the new semester of college starts because some things we have yet to learn."
Learning while working remotely can be effortful, but we are here to help you succeed. The internship is our joint investment in your future. Explore what does it mean to work for some of the greatest world companies, receive professional and personal development with Microsoft certified professionals and learn valuable career starting skills.
Ready to get started? If you are an undergraduate student and want to learn more and gain relevant skills, ICodeFactory is the right place for you.
Send us your application via contact form https://www.icodefactory.com/career#internships or our email jobs@icodefactory.com. Good luck!