---
Growing a successful business doesn't mean only to have a good idea. It also means having a great team, skills, know-how, technology access and support, where developing a software solution is just the start of a long journey.
From the first day, we have been creating unique methods for growing our company as an organization that educates others and brings new values. ICodeFactory always strived to associate with exceptional individuals, schools or organizations where both sides can advance their qualities or evolve them in a new way.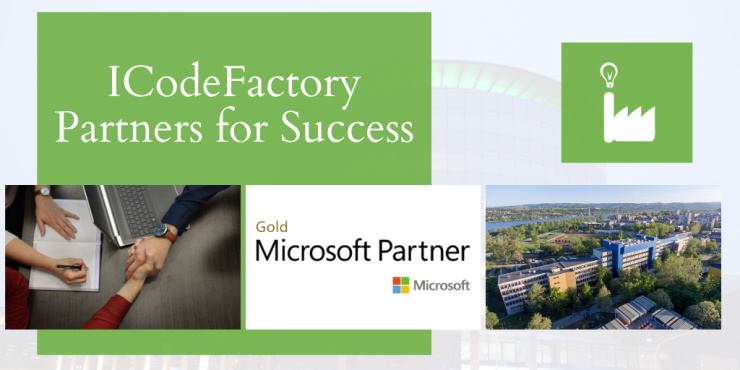 In collaboration with Faculty of Science and Faculty of Economics and our official partnership, we give students the opportunity to get practical experience at ICodeFactory through internships, training and workshops. We help them to transfer their theoretical knowledge into practical, and to understand why is important to choose wisely at the beginning of their careers.
This year we had the opportunity to support young and smart students from Vector robotics organization in their preparation for competition in robotics. It was amazing to hear about the process they had to go through to make the robot in front of us. The whole ICodeFactory team was astonished by excellence these young talents share with us.
As a business-growing company we are striving for a sustainable growing trajectory of excellence in the services we deliver to our clients all around the world. To achieve that, we had to seize with a successful partner who can guarantee the quality and help us to create customers' loyalty. Last year ICodeFactory had a milestone for the first decade of a technology partnership with Microsoft. This year we maintain the good practice of partnership as well and we renewed our annual membership for 2020 as Microsoft Gold Certified Partner.
Being Gold Certified Partner means the highest level of certification as proven expertise and best-in-class capabilities. This partnership demonstrates our efforts in implementing our client's vision and achieving even more than required. Millions of companies all around the world have recognized and accepted Microsoft technologies and we are glad to be in the Partner Network, capable to support them with our services. We worked hard to complete all the requirements and to keep the elite status of Gold Certified Partner.
Having Microsoft certified professionals on board made our knowledge in Microsoft technologies now flowing through all our services. We deliver IT Solutions, we teach in IT Training, we advise with IT Consulting.
From our experience, collaboration with proven companies often results in a win-win situation and shows as a key to a successful project. We are open to learn about your challenges and open to share our knowledge. If you would like to cooperate together with ICodeFactory, it will be our pleasure to listen to your vision, and of course, help you implement it.