---
The regional brand that has been successfully gathering people from the IT field from Southeast Europe for 20 years is Sinergija.
Sinergija is an annual conference organized in Serbia and dedicated to digital transformation, information and communication technologies and their business application. Since its first release, twenty years ago, Sinergija has been oriented to Microsoft technologies.
As a company focused on software development in Microsoft technologies, ICodeFactory has been working with Sinergija since 2008, when our MCT participated as a speaker for the first time. For several years in a row, our lecturers have unreservedly shared their knowledge and experience in the field of Microsoft technologies at Sinergija.
This jubilee year at Sinergija20, one of the lecturers is from ICodeFactory again.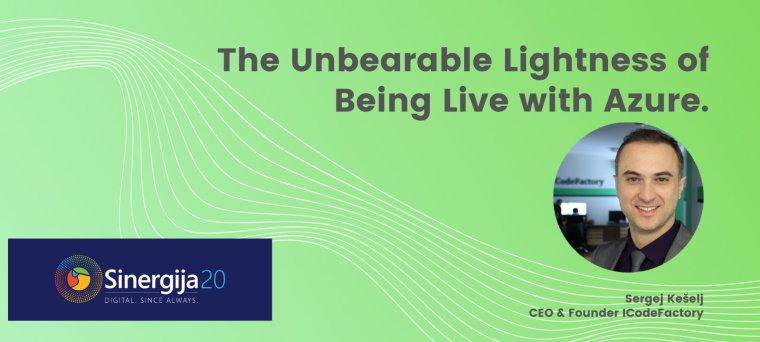 We are pleased to announce that the CEO of ICodeFactory, Mr. Sergej Kešelj, will hold a lecture on the topic: The Unbearable Lightness of Being Live with Azure.
Besides focusing on long-term business goals as CEO, Sergej is Chief Solutions Architect at ICodeFactory and Lead Microsoft Certified Trainer. While educating and helping software professionals to get certified Sergej shares his broad experience from real-life enterprise software development projects.
Don't miss the great opportunity to learn some new information on how to improve your business from the comfort of your home. Taking care of the safety of conference participants, Sinergija20 will be held online, in digital format via the Microsoft Teams Live Event platform, on November 25th and 26th. You can register here: https://sinergija.live/Account/Login
Although primarily intended for IT professionals, the conference has grown and expanded its program from year to year and it has attracted a large number of business-oriented participants.
While we are waiting for the conference, let's make some throwback to our previous involvements at Sinergija.