---
In the light of the 15-year existence of ICodeFactory and sharing knowledge with others, we have announced that our internal conference ICodeFerence will be dedicated this year to students, under the new name ICodeFerence Youth 2021.

As we all know, ICodeFactory has always been the team that pays great attention to professional development, learning and sharing knowledge. In alignment with that, this year we decided to help students start their careers the right way and also, we were curious to hear what motivates students, what are their professional ideas or career dilemmas.
To get the answers, we did a quick survey to see what interests students have and what they wanted to learn at ICodeFerence Youth, so we would know what to focus on the most while preparing the conference.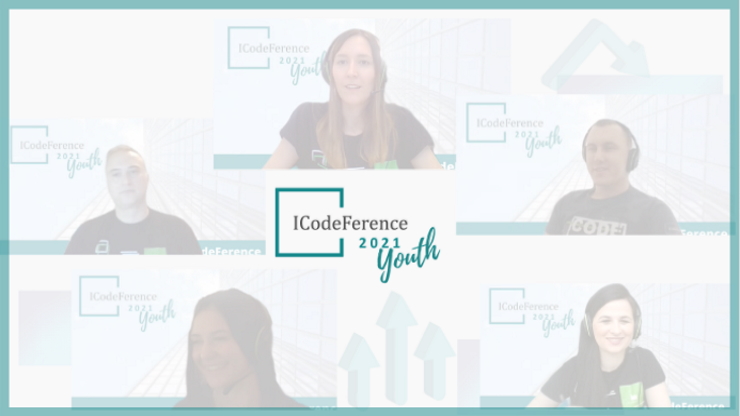 Throughout the three sessions we held on April 8th, we covered the most important topics to help students get a better understanding of real-world projects and work as an employee:
• Student projects vs Real-world projects
• Importance of IT certification; Microsoft Certification Training sponsored by ICodeFactory; programs for students at ICodeFactory
• My career path and how to get a job

During the session Student projects vs Real-world projects, our panelists advised students to use the time at the faculty in a better way, to prepare for teamwork, learn together and to observe the student projects as if they were for a client.
One piece of advice was to do a lot of research and create a wider picture of the project because that is how better solutions come. Our colleague Boško advised the attendees to make a five-year plan and not to allow small distractions to turn them off the road. At the end of the panel discussion, our CEO shared his personal experience and advised students to always try to understand everything they are doing, and why lifelong learning can be an exceptional potential for professional successes and advanced career goals.

Students also had an opportunity to hear all information about Microsoft Certification Training sponsored by ICodeFactory, how to apply to this program and what are the requirements for interviews. Every year the interest in this training is higher, and since the number of participants is limited, attendees had several questions about how to prepare better for selection.
The final session, My career path and how to get a job was a highly requested one. Nowadays, knowing which opportunity to take and how to get ready for the selection process can be a game changer when starting your career. Our attendees received a lot of advice, especially regarding on why professional development is so important, as well as how to write a CV, a cover letter, and how to prepare for an interview.

If we could sum up all the lessons shared that day into one message, it would be that the key to professional development is exploring and finding new ways of gaining and spreading knowledge. Knowledge only grows by usage and by investing in knowledge and education, we invest in our future.
Thanks to everyone who made this happen, especially our panelists and lecturers for their time and for sharing their knowledge. Also, thanks to all of our attendees for their presence and for asking questions. We hope this conference has fulfilled your expectations and that you have learned a lot.
Dear students, choose wisely where and how will you start your career. See you next year or sooner, who knows, maybe some of our attendees become our team members and speakers for the next ICodeFerence Youth.